Automated Google Index Monitoring
Without the headache of a 3-day delay in Google Search Console

Setup with 1 click
With just one click you can instruct us to import all GSC Properties and their data to URLinspector.
Webmasters of large websites with many properties on sub folders and subdomains love this. A super affiliate with 427 domains suggested and loves this feature, too.
…or Setup in Detail.
You can decide exactly which Search Console Properties to monitor.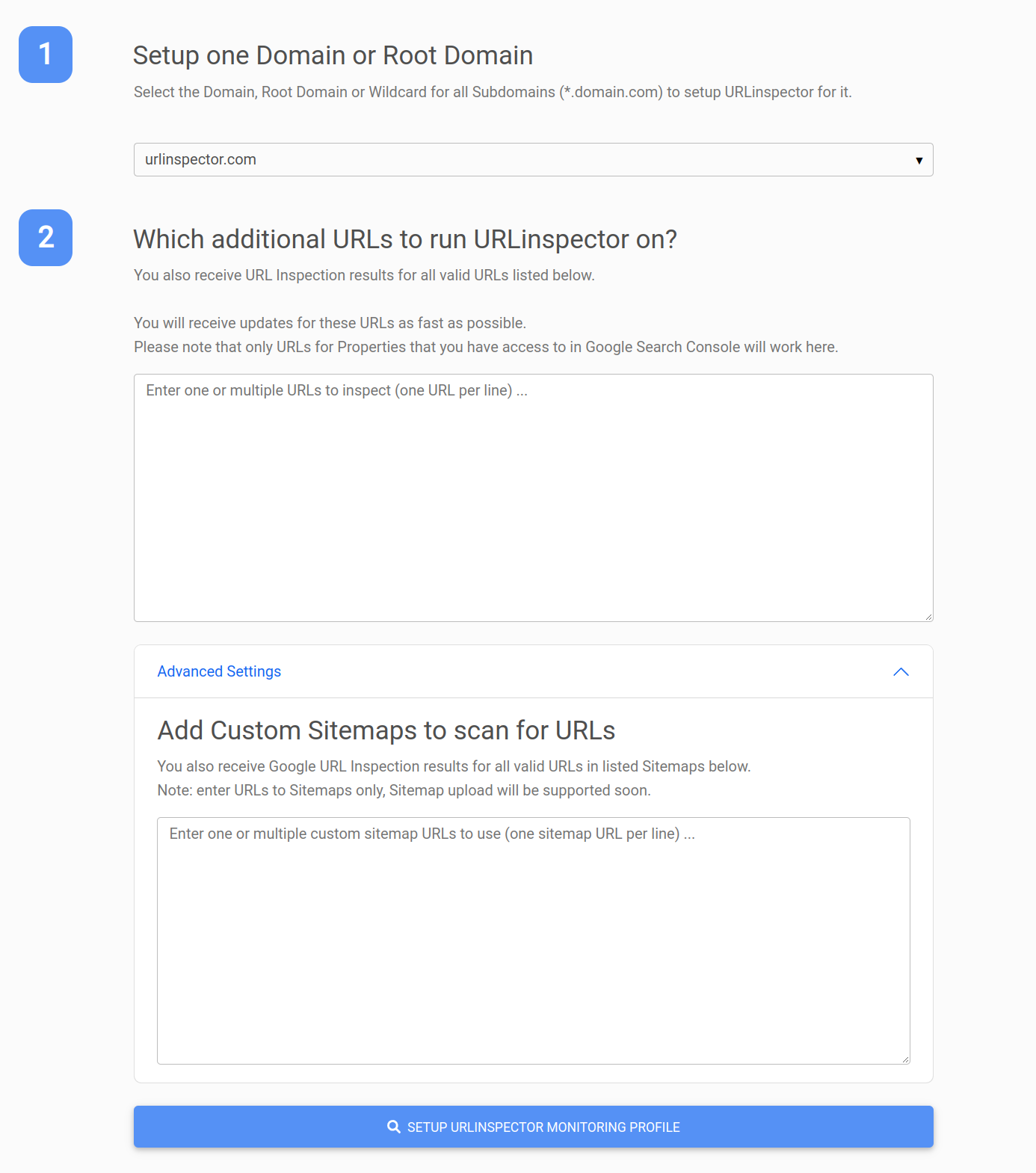 Monitoring Profiles Overview
You can then monitor progress of crawling, importing and ongoing URL inspection.
Of course URL inspector takes a bit longer initially, but first results are visible within minutes
Time to Review Results
Right after setup you can start reviewing data as it comes in.

URLinspector works around the clock to refresh the data for you, so anytime is a good time to check it.
Google Search Console URLinspection API Results
Below you find all relevant details SEO for your URLs, from the URLinspection API.

You can click on any element to drill down to a subset the charts and table below. Did you know? When you filter the table below, these charts also update.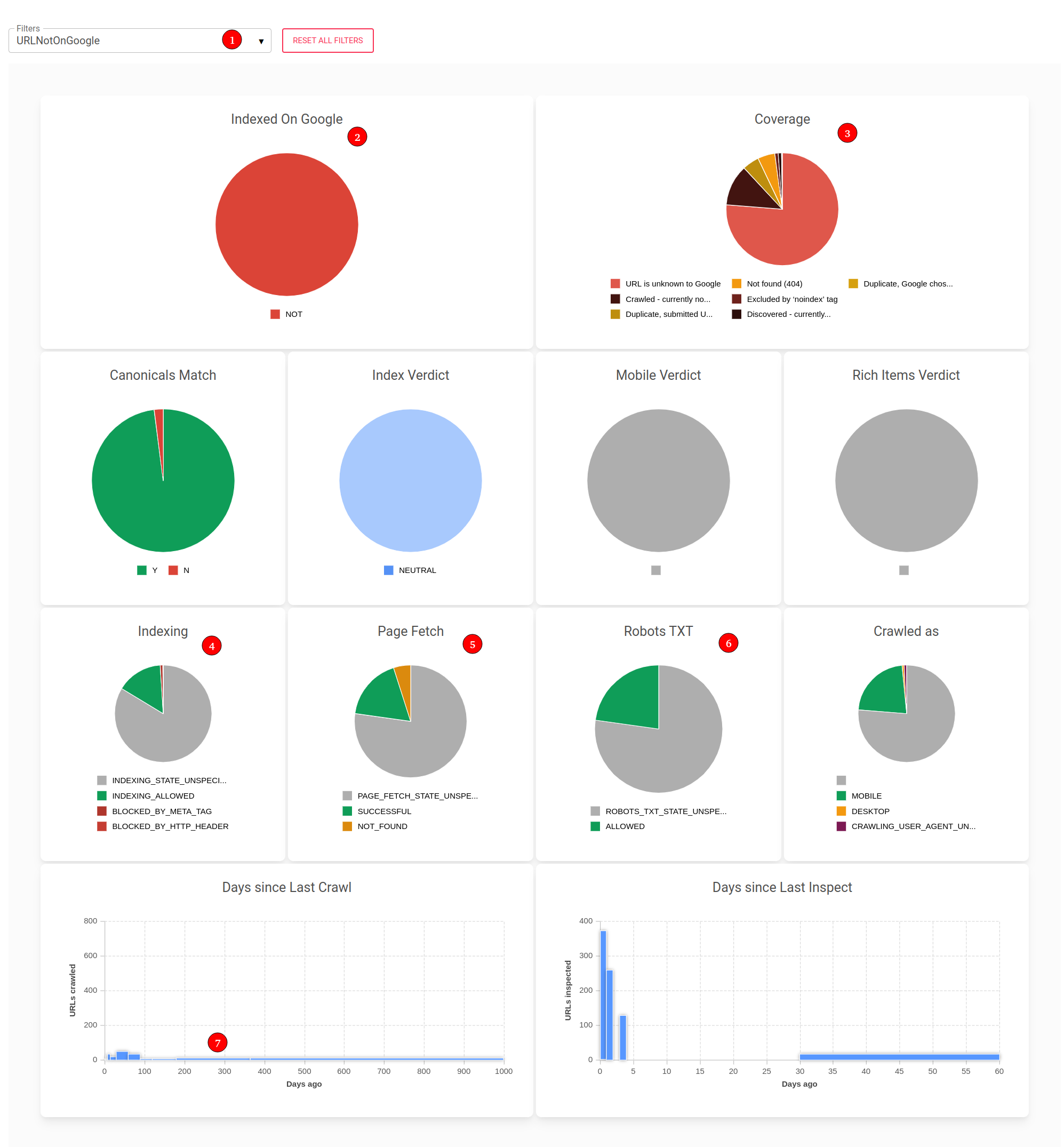 (1) The drop-down lets you switch between different filters for groups of issues and URLs.
(2) The "Indexed on Google" chart shows the URLs indexed vs. NOT indexed. All URLs in this screen are not indexed by Google per the filter in (1).
(3) The "Coverage" chart gives you a break down of different errors for currently shown URLS. You can click anywhere in the chart to get the list of all URLs in the table below.
(4) The "Indexing" chart is another tech SEO detail that helps you understand if and why URLs may not be allowed for indexing by Google.
(5) The "Page Fetch" chart sums up feedback we got from Google bot about fetching URLs from your site. Some URLs here could not even be fetched successfully, which could indicate server problem.
(6) The "Robots TXT" chart tells us what GoogleBot saw in the `robots.txt` file for the URLs. Apparently for some that's even unclear to GoogleBot at this point in time.
(7) In the "Days since Last Crawl" we learn that there are some URLs not indexed that were also not crawled for over a year. Wowsers! That needs more attention.
Impression and Click breakdown
We cluster all URLs into a few groups based on their impression and click counts contributed.

The higher the Cluster number, the more important the URLs in it. Often a lot of "less important" URLs contribute a lot of Impressions and Clicks, too - from the long tail of search queries.

You can click on a bar to drill down to these URLs.
Detail Inspection Results
We show you all the URLs and all the details we could find, including:
Impressions for every URL
Clicks for every URL
Keywords (search queries, SQ) for every URL
and so much more.

Some things you see above:
I-Days - the number of days since the last URL inspection by URLinspector.
C-Days - the number of days since Google last crawled the URL.
%Change - for the comparison period for Impressions, Clicks and Keywords (SQ, Search Queries). If you're site is in URLinspector for a while we can show you powerful historic data.
Coverage and Previous Coverage - similar to the %Change we can spot problems a lot better the more historic data we collect in URLinspector. See below for an example.
Historic SEO Troubleshooting
If you're site is in URLinspector for a while we can show you powerful historic data and signals.

Below you see a site that has lost some substantial traffic and clicks on some of the URLs in the Google Core update June 2022.
In the table you can


Filter by any of the columns
Sort by any of the columns
Drag & drop columns to reorder them
Pin columns
Arrange the data in a Pivot table
Keywords (search queries, SQ) for every URL
and so much more.
More features
Export with 1 click.
You can export the results we gathered for you with one click.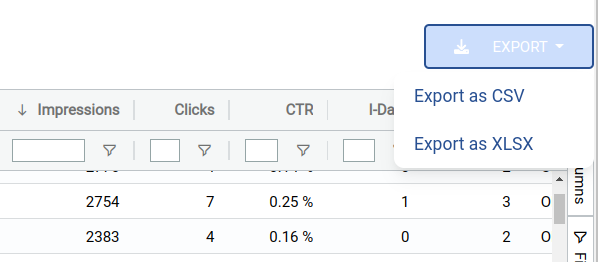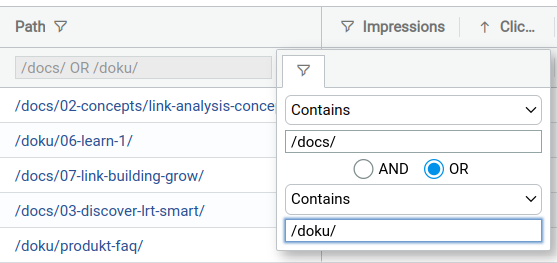 Filter by URL path. Combine filters.
You can also filter, group and pivot by partial fields like the URL path.

You can apply multiple filters at once to a field.
Combine filters across many fields.
You can apply multiple filters at once to multiple fields.


Define the sort order for each field, order field precedence.
You can sort by any column.
You can define order of columns in the sort by clicking the header with the shift-key.
SOON: Heat Map for changes in Impression and Clicks
If you're site is in URLinspector for a while we can show you powerful historic data and signals.

Below you see a large international brand website, with changes in Impressions left and changes in Clicks to the right.
This website has gained substantial traffic and clicks in the last Google Core update June 2022.

Only a relative small part of the traffic has dropped for portuges in Brazil. You spot this immediately in this chart. We think this is useful for webmasters.



Did you know? URLinspector was designed for large websites, with the biggest currently having 12 million URLs monitored.
Automated Google Index Monitoring, without the headache of a 3-day delay in Google Search Console (GSC)
Many years of experience and hard work went into our top priority:
To get you the best possible SEO data for your SEO work.
URLinspector is a tool built based on the Google Search Console APIs.
Technology and know-how come from the team of LinkResearchTools (LRT), one of the most advanced backlink analysis suites with a special power for finding toxic links.
A free plan of URLinspector for typical small business websites shall remain free for as long as possible.
For our enterprise clients, we work on making the product the best bulk URL Inspection tool for larger websites and crawl data analysis for millions of URLs and hundreds of websites to manage.