URLinspector is Paid Now.
URLinspector is a paid service. We've had exciting times with 1000s of free beta users since March 4.
302 billion rows in free beta
We're ending the free beta phase of URLinspector with the large number:
302,486,417,798
This 0.3 trillion (302 billion) is the number of rankings stored already in URLinspector, from the free beta phase.
This number is up by 100 billion in just a month, and we've hit our internal threshold for when we say - let's go.
There is a considerable cost for all the servers sweating 24/7 and storing this data. We've also experienced some exciting Database scenarios in the beta from this.

Two example charts from a user dashboard…
…and…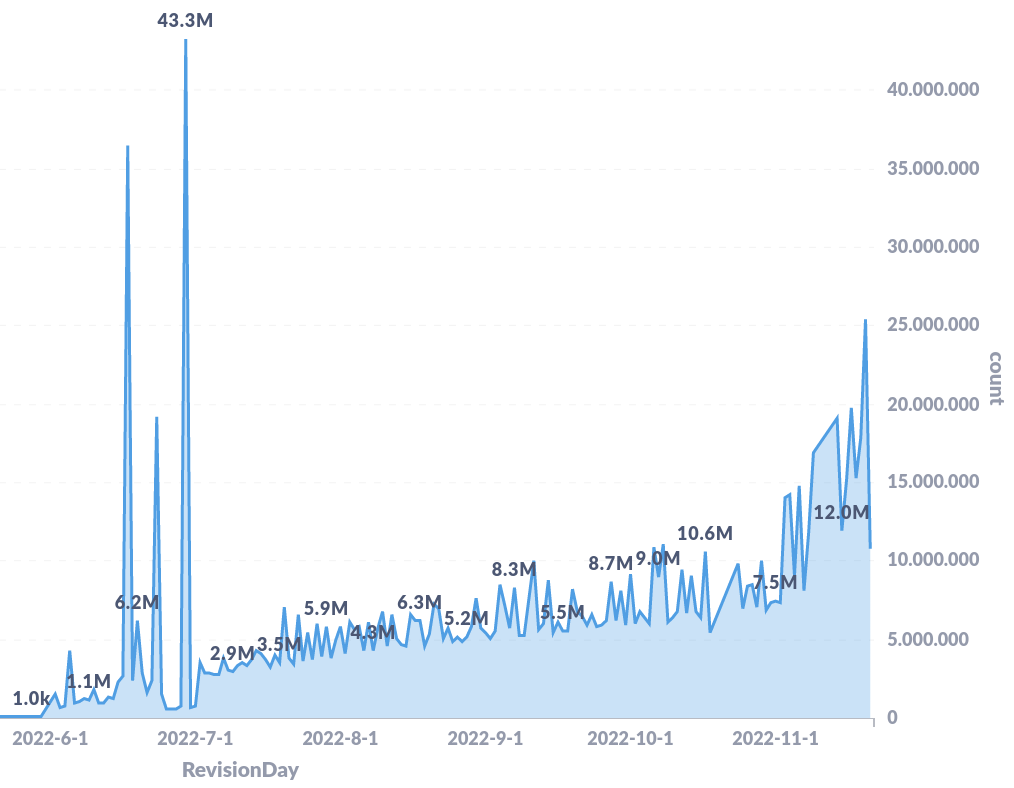 *…an internal monitoring dashboard for URL touches in URLinspector over time.
As you can imagine "some" infrastructure work was needed over the past months.
Paid service for Early Bird customers
Moving forward, we will only process data from paid customers. We've shown what is possible.
You now need a paid plan that matches your number of websites and URLs.
For example, if your account has 23 GSC profiles, you need a paid plan that fits that number (the URLinspector Bronze - Early Bird at the moment).
For a historical analysis, the data retention time you choose also plays an important role, as you can imagine. Read on.
Which plan is right for me?
As a new user, you can sign up for free and use the URLinspector software without limits for 14 days.
After that, you can choose a plan that fits your needs. Below, we will explain how to read the criteria in detail.
You can also upgrade or downgrade your plan later, no worries.
Did you know? A typical problem with SEO tools that perform crawling (as opposed to just serving you pre-made data from a database of varying ages) is that depending on the user, you either need a lot of resources or only a few. The spectrum is enormous, and every user is different; how much data you must process for a user is often surprising. We have learned this fact in LinkResearchTools, and it has been shown again in the free beta phase of URLinspector.
For example, a user brought in over 700 websites with a 1-click setup. Those are a lot of websites and URLs that people manage. That was very helpful to us in understanding your needs; our users that manage many websites and future features will account for this also.
URLs, Crawling Priority, Data Retention, Number of Profiles
We have settled on four essential dimensions that define the plans:
After purchase (or upgrade/downgrade), your monitoring profiles will be rescheduled. You can review the automatic scheduling assignment in your account by clicking on Manage Billing.
Separate groups of Monitoring Profiles possible
Yes, that's right - depending on your plan, you can have different priorities and retention periods for groups of monitoring profiles in your account. This mix of products can lead to some monitoring profiles running with a higher priority than others or with a more extended retention period than others.
So far, we did not invest time into a complicated UI to define these priorities on a per-profile basis, as we realized that most people want their sites fast and are happy to pay more for more speed. Others would rather prefer a more budget-friendly plan and can wait longer. We would rather focus on utilizing the data, and there are a couple of interesting features coming out very soon like the Heat Map for changes in impressions and clicks.
You could always review, sort and filter by the crawling status of your monitoring profiles.
Now we're also showing you those details in the report header of your website.
You can click on MODIFY to add more URLs or sitemaps to this profile right from there, saving a few clicks now.
Sign Up today for the Early Bird Pricing
To keep using URLinspector to monitor your websites faster than with Google Search Console, you can sign up for the Early Bird Pricing plans.
To perform your upgrade, please log into your account and click on Upgrade to see the plans and pricing.
If you do not have an account yet, you can start for free, no credit card required for 14 days.
Start with 14 days free trial, no credit card required.
---
Frequently Asked Questions
How much time do I have left to buy?

We have just launched the paid version and understand that users need time to decide.

However, after months of free beta, we need to clean up and remove data nobody needs from our servers in the following days and weeks.

Please sign up for a paid account that covers all your Monitoring Profiles as soon as possible.
I have a lot of websites, how can I get a discount?

We don't offer individual discounts.

We may offer promotional discounts via partners from time to time.

We offer an unlimited trial for 14 days, with no credit card required.

With this, you can find out how much data, how many URLs, and how many monitoring profiles you need.

After that, you can upgrade to a paid plan that best fits your needs.
How can I pause the most monitoring profiles? I only want 1 website from my 145.

We don't have that, yet. Fine grained control for each monitoring profile is not yet available.

You can either

OR

setup a Google Search Console user only for those 1 website and setup a in URLinspector for that

So yes, if you do not want to buy a plan matching the properties you have setup, you can create a new Google Search Console account ONLY for the monitoring properties you want to pay for - and then setup a new account with that.

Q: When will you implement such a fine grained control? A: We don't know. First we focus on delivering the best possible insights from data.